LAFD Spokesperson: Margaret Stewart
-
An early morning blaze damaged five businesses in North Hollywood, blanketing the neighborhood in heavy smoke.
At 5:33AM on June 10, 2019, the Los Angeles Fire Department responded to a reported structure fire at 5241 N Lankershim Blvd. With a large plume of smoke visible while enroute, firefighters knew it would be difficult fight. The 94-year old building, approximately 150' x 75', had heavy fire and smoke showing upon arrival of the fire companies. Firefighters initiated an offensive attack with companies going both to the roof and inside to battle the flames. Twenty minutes later, as the fire evolved, it became too dangerous to remain inside the structure and the operation transitioned to defensive mode.
Truck companies initiated ladder pipe operations while Engine companies used both the wagon battery and heavy stream hand-lines. Thousands of gallons of water streamed into the fire, abating the bulk of the flames. However, the challenged remained reaching the remaining fire in pockets not accessible from the exterior. Two hours and 16 minutes later, 113 firefighters, under the guidance of Incident Commander Assistant Chief Stephen Gutierrez, achieved knockdown.
Despite the challenging conditions, seven businesses were saved by the relentless efforts of Your LAFD firefighters. The large building housed a dozen separate businesses and firefighters limited the damage to five at the epicenter of the blaze. Ultimately, the five businesses suffering varying levels of fire, smoke and/or water damage were Greenhouse, Tokyo Delve's Sushi, Chili Rollz, District Pub and Joe Coffehouse.
The scene remained active throughout the morning while firefighters performed overhaul operations and the LAFD Arson Section conducted the cause investigation of this non-injury fire.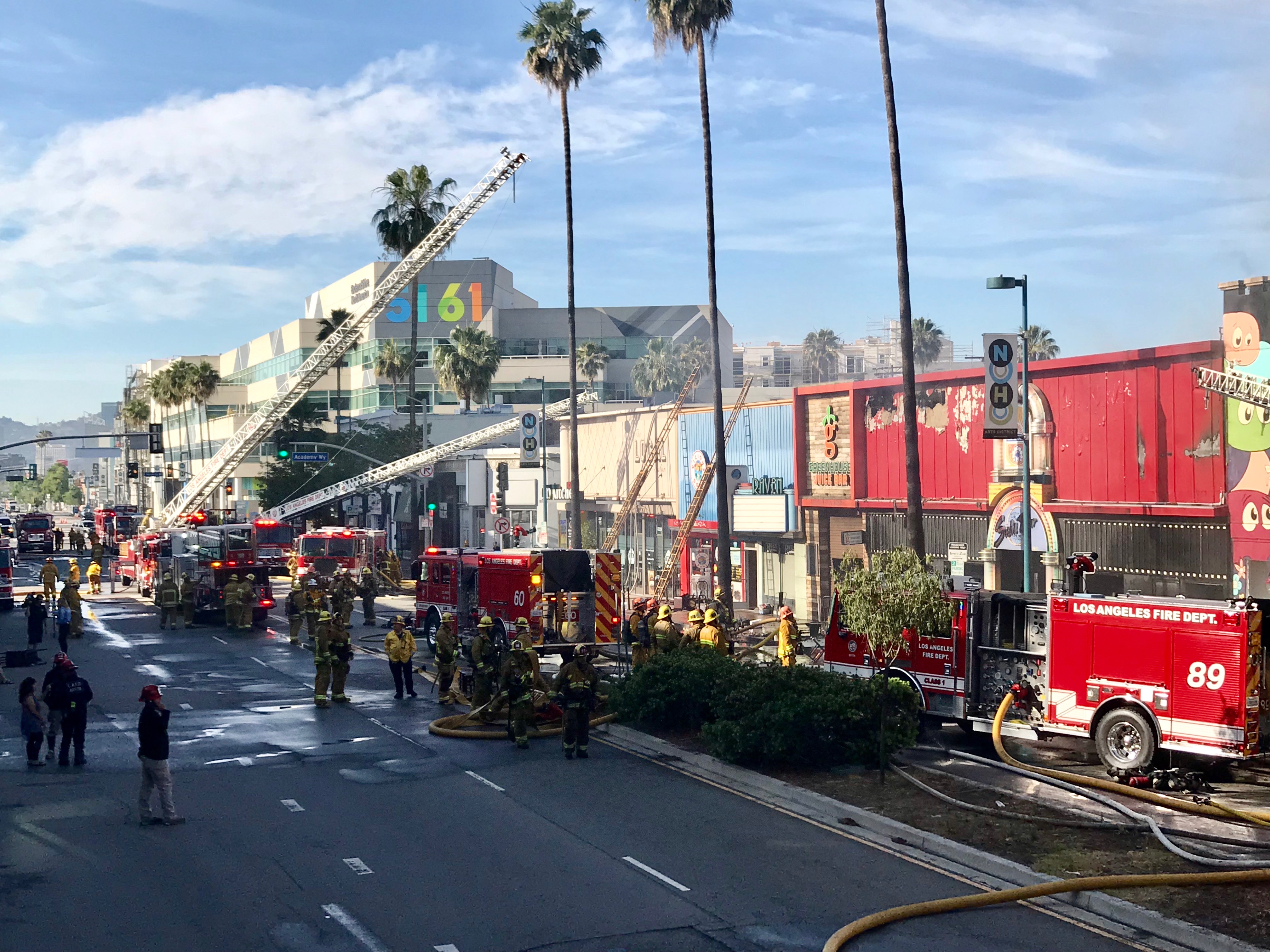 Video and Photo: Creative Commons licensed for your use | LAFD Erik Scott